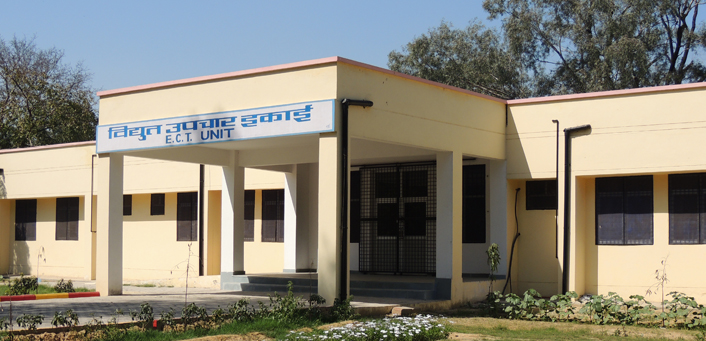 Mr. A.K. Mishra, Principal Secretary, MOHFW, Govt. of U.P. Inspecting equipments in ECT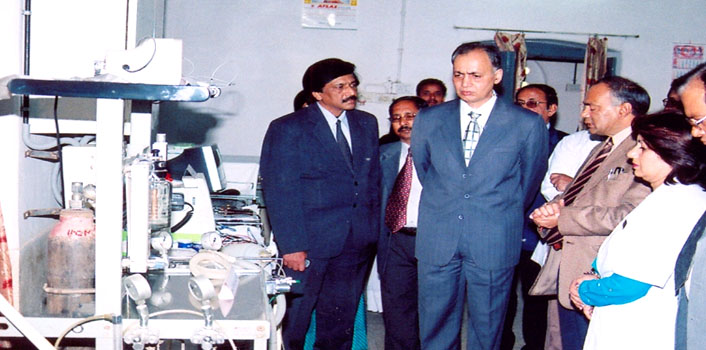 BIO-CHEMICAL LAB
An air-conditioned biochemistry laboratory with facility of Fully Automatic Autoanalyser is established on the first floor of PGI building for maximum utilization of the investigative facilities for indoor and outdoor patients.
Apart from routine blood and urine tests of all new admissions, specific diagnostic Pathological/ Biochemical test facilities are available in the lab.
The biochemical laboratory is equipped with modern equipments required for specific diagnostic tests.
X- RAY UNIT
The institute has one x-ray machine of 300 ma.
The institute has the facilities of computerized 21 channel EEG machine.
TEST FACILITIES
Blood Sugar
Serum Creatinine
Serum Protein
Serum Cholesterol
HDL/LDL Cholesterol
SGPT
VDRL
Lipid Profile
Blood Urea
Serum Billirubin
Serum Albumin
SGOT
Widal
Serum Calcium
Serum Chloride
Thyroid Function Test T3,T4,TSH
Potassium
Blood Group
BUN
Urine Sugar & Protein
SAG
Serum Lithium
Sodium
TLC, DLC, ESR, MP, Hb
Uric Acid
HIV
Sputum of AFB
Enzymes
Phosphorous
GGT
LDH
Amylase
HBD
Magnesium
CPK
ACP
TIBC
Iron
CPK-MB
CHE
PLIP
T3,T4,TSH
LIP
OTHER EQUIPMENTS

Fully Automatic Auto Analyzer
Semi Auto Analyzer
Spectrophotometer
Autophotometer
Batch top automatic analyzer for biochemistry SABa-18
PH meter
Electrical balance (0.1 mg- 200 gm )
Na+, K+, Li+, Ca++, Cl- Analyzer ion selective based.
Binocular Microscope
Centrifuge Machine
Vertex Mixer
incubator
Oven