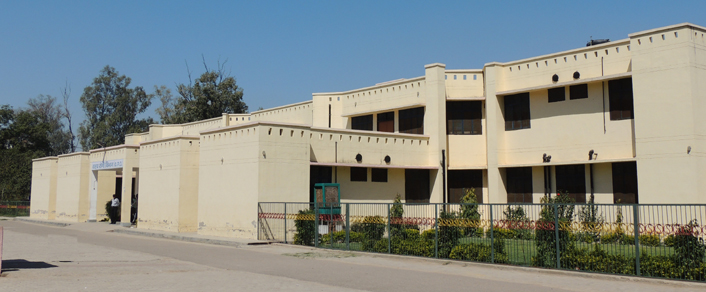 The institute is spread over 172.84 acres of land of which 33 acres is farm land. Part of the farm land is within the boundary wall housing the patient's wards and the rest of it is outside the boundary.
In yester year's farm land was being irrigated with a canal system, the water supply from canal stopped due to some or other reason making the harvest difficult, now it is being maintained by submersible pumps and modern implements.
Strengthening of the Institute
The funds for strengthening of Mental Health Institute was released vide order of Ministry of Health and family welfare, Govt. of India N0-T.21013/81/03-NCD/PH (pt) dated 30.3.07. However, the details of projects were not provided with sanction letter.
Hence, the institute requested Ministry of Health & family welfare, Govt. of India for details of the projects vide letter no-Dir/07/1866 dated 26.6.07, 2273 dated 18.5.07, 2562 dated 01.6.07 and 2952 dated 25.6.07. Details of the projects were provided by Ministry of Health, Govt. of India on 27.6.07 vide letter no 560/2007/CMO (JK) dated 26.6.07.
Thereafter, the project started with effect from 18.8.2007 after obtaining necessary approval from competent authorities.
Wards
The institute has sanctioned bed strength of 718 patients, 543 male and 175 female. There are 30 wards including paying and non paying. For intensive care and management of physically ill psychiatric patients, there are two infirmaries one each in male and female section.
Two new wards have been created in the institute, i.e. family ward and short stay ward.
In family ward patients are admitted along with their family members so as the patients may be treated in the family environment.
The short stay ward extends the services to acutely disturbed psychiatric patients coming to the institute after OPD hours.
Dr. L. Mishra, Special Repporteur and Prof. Sudhir Kumar Director inspecting a ward.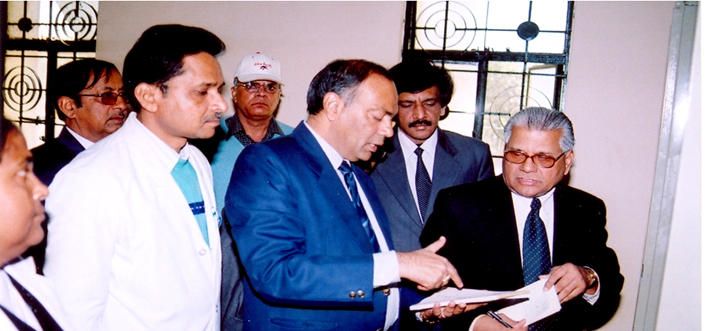 Office
At present the centralized office of the Director and Medical Superintendent is housed in an earlier designated research ward building. Post Graduate Library has been shifted in the earlier office complex of chief medical superintendent.
Administrative Block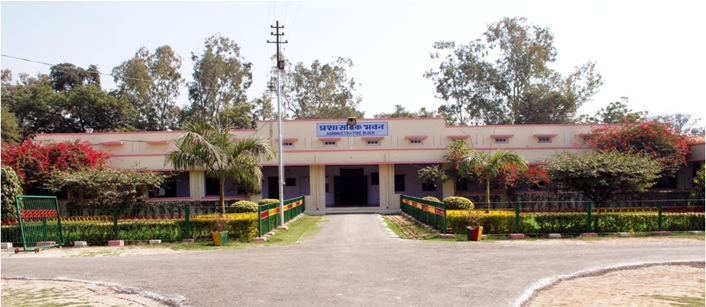 Other Buildings
There is one building each for Occupational Therapy Unit in the male and female section.
The Institute also has recreation unit augmented with indoor and outdoor games and basic equipments of Gym.
Regular out-patients department is presently functioning in a building marked for postgraduate institute.
There is one auditorium for patient's recreational activities with a sitting capacity of about 500 persons and one with capacity of 125 persons.
Civic Services
There is one open canal for drainage.
Ward-toilets are connected to soak pits.
There are number of bathrooms for patients to bath with dignity.
Most of the ward complex has been provided a dining hall.
Kitchen
A gas based centralized kitchen has been developed replacing earlier five conventional kitchens. Modern gadgets for cooking are being procured as and when required.
A kneading machine is installed to maintain hygienic kneading of flour .There is a three wheeler to transport the food from kitchen to various wards.
Quality of food is ensured through sample check of all the cooked items everyday by a medical officer.
Weekly menu is prepared to maintain the variety.
Everyday fresh vegetables are supplied either institute farm or the firm contracted through tender process.
Old Kitchen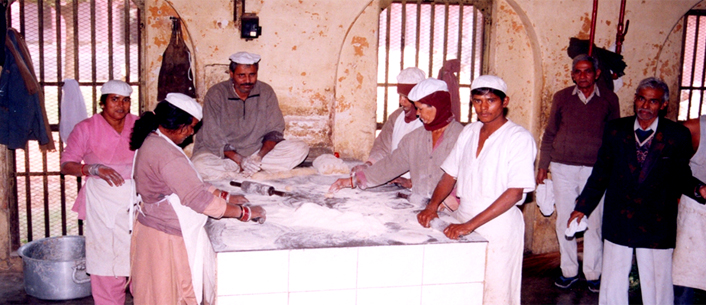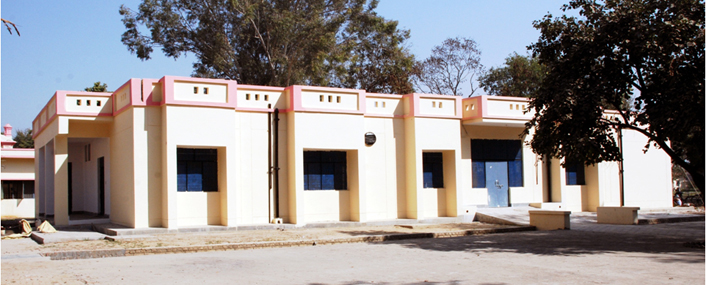 Hon'ble Justice J.S. Verma, Supreme Court Inspecting Dinning Hall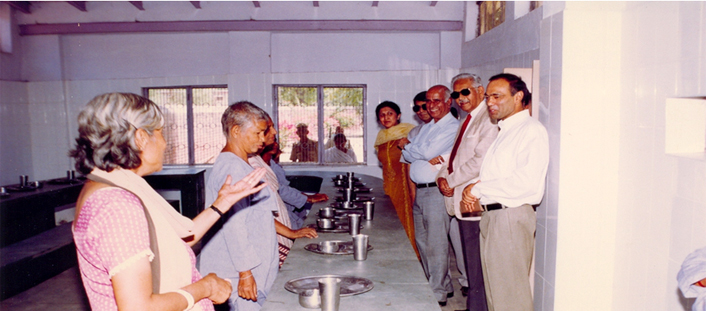 Earlier washing of clothes and linen were being done manually. A new building has come up for the modern and mechanized laundry. It has spacious washing and drying rooms.
There are separate rooms for receiving soiled linen and clothes and issuing clean/washed linen and clothes.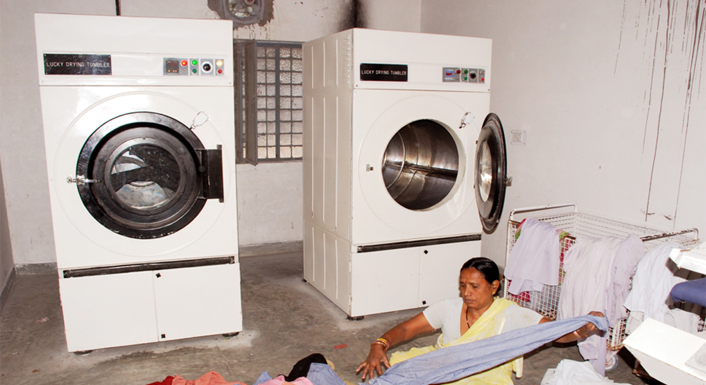 The institute has one overhead tank of capacity 15o Kiloliters which is fed by four submersible pumps.
A chlorinator is installed for safe drinking water to the patients and staff.
Beside overhead tank, hand pumps and submersible pumps at the different strategic points in the campus have been provided.
A R.O. system of 1000 lt./hr. has been installed to provide standard drinkable water to the patients.
A new bigger over head tank of 650 kiloliter capacity is under constriction.
R.O. PLANT

Electricity
A separate transformer of 250 KVA capacity for IMHH is installed. All the strategic points have been provided with generators to meet any failure of electricity. A direct and dedicated channel of three-phase line from electric sub-station to the institute has been made available. This has improved uninterrupted supply.
Disposal of Bio-medical waste
An incinerator with computerized autoclave, shreader and chemical treatment tank is installed for the disposal of Bio-Medical waste.
INCINERATOR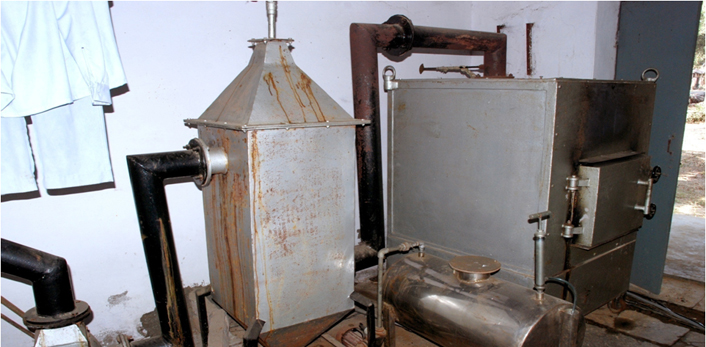 AUTOCLAVE

Communication System
In view of the vast area of IMHH, handling inpatients and meeting clinical emergencies, a digital EPABX system has been installed and all the strategic points have been connected with intercom facilities.
Institute also has fax, e-mail and multiuser wi-fi Broadband facility for fast and speedy communication.
Residences
There were few residences within campus for professionals and Para-professionals ever before its autonomous status.
One type five, six type four and two type three residences for officers and nursing staff have been constructed by the institute from own resources.
Residential accomodation needs to be augmented to provide the faculty.
Internal Roads
The main road of the institute has been renovated and other roads and pathways connecting various wards complex has also been constructed.
An internal road from OPD to main campus has also been constructed to transport the patients form OPD to wards.
Medical Store
The institute has a centralized medical store to procure the stock of medicines and to supply dispensary from where it is distributed to the respective wards and OPD patients.
Medicines are purchased from the manufactures having GMP certificate through tender process and the local purchase.
The medicines are indented from each ward by concerned Medical Officer in-charge. The stock of essential medicines is adequate. The crisis and scarcity has never been faces.
General Store
General Store supports administration for procurement of items through tender from the qualified firms and purchase process through Purchase Sub-committee.
General Store is also instrumental in construction and repair of furniture.
The store has own Atta Chakki for grinding wheat flour. Wheat and rice is procured from Food Corporation of India (a Govt. Agency) and thoroughly cleaned before flour is made.
All the spices are both cleaned and grinded in the store as far as possible depending on the whether, otherwise readymade spices and condiments are purchased. All the patient clothing and hospital linen are purchased and tailored in the hospital.
Funding
The institute does not get any grant or grant in aid from U.P. Government and/or central Government. As per the directives of Hon'ble Supreme Court a minimum consolidated charge calculated on the basis of number of indoor patients at the rate of per patient per day Rs. 200 and 25% development fee was being levied to the concerned State Govt. to which the patients belonged.
On the recommendation of management committee and national human rights commission Delhi the government of U.P. enhanced the levy fee from Rs. 250 to Rs. 500 per patient per day with effect from January 2007.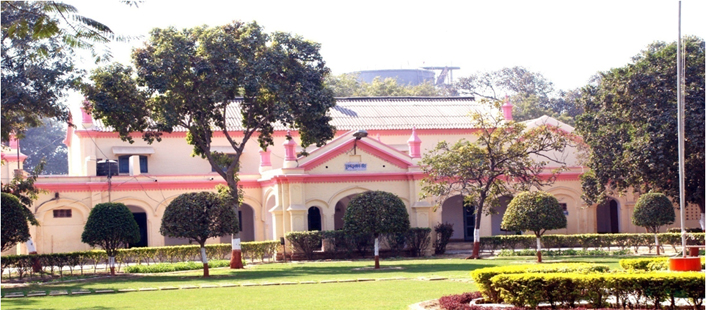 In family ward patients are admitted along with their family members so that the patient may be treated in the family environment. It significantly reduces the average stay of the patient in the hospital.
Children below 18 years of age are admitted in the family ward. There are separate wards for male and female patients.
Relatives of the patients stay with them in the ward . Patients are provided bed side locker.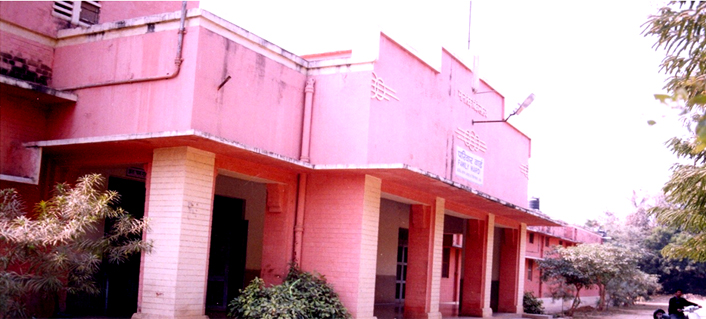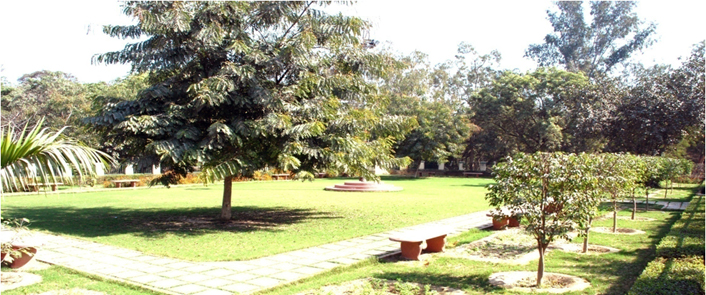 MANPOWER DEVELOPMENT
To provide professional and Para professional training in the field of psychiatry, clinical psychology, psychiatric social work and psychiatric nursing is one of the objectives.
The institute has submitted the proposal for the following courses to Dr. B.R.A. University, Agra for affiliation along with demanded fee.
The Executive Council of the University in anticipation of approval by academic Council has accorded the permission to start the following courses.
Dr. B.R. Ambedkar University, Agra has approved the creation of "MENTAL HEALTH FACULTY" in the institute.
On the Approval of Management Committee following academic departments have already been created.
A. Department of Psychiatry
B. Department of Clinical Psychology
C. Department of Psychiatric Social Work.
D. Department of Psychiatric Nursing.
M.D.(Psychiatry)
M.Phil & Ph.D in Clinical Psychology
M. Phil & Ph.D in Psychiatric Social Work.
Diploma in Psychiatric Nursing
INFRASTRUCTURE
Conference Room – 03
Lecture Room – 04
Auditorium – 02
LCD Projector – 03
OH Projector – 02
Slide Projector – 02
Photocopier – 02
International Journal – 05
Indian Journal – 21
e-journal – 550
Books – 3000
Internet (Multi-user)
Computers
DEPARTMENT OF PSYCHIATRY
The Institute has applied to the Medical Council of India for recognition to start M.D. (Psychiatry) course in 2009.
FACULTY AND OTHER STAFF
Professor – Prof. Sudhir Kumar
Associate Professor – Dr. O.P. Gangil
Dr. Nasir Mohamad Khan
Assistant Professor – Dr. Dinesh M. Rathor
Three more post available
Pediatrician – Dr. Kusum Chauhan
Neurologist – One post available
Psychiatrist – Ten posts available
Senior Resident – Five posts available
Junior Resident – Three posts available
Recruitment for vacant post is under process.
Clinical Psychologist – Mr. Lalit K. Singh
– Mr. Manoj Bajaj
– Miss. N. Pamyaphy
Social Work – Dr. Shekhar
– Mr. A.K. Singh
– Mr. Vinod Kumar
– Mr. Pramod Kumar
Teacher for Special Training – One post